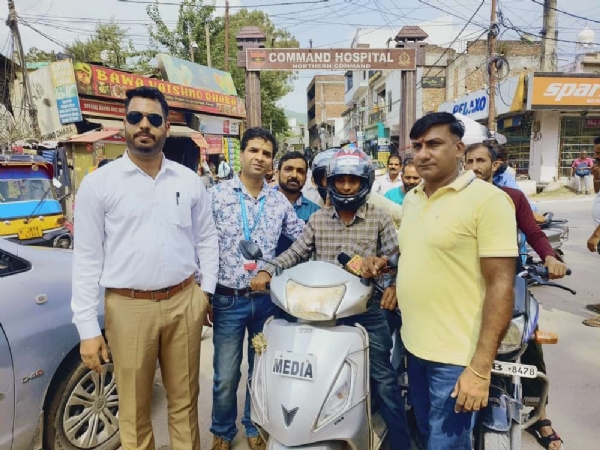 Udhampur, 25 September (HS): Global Human Rights Trust, a non-profit organisation working towards promoting safety and awareness in the community. We are planning to organize a traffic awareness campaign in district Udhampur.
The campaign was launched by SSP Udhampur Dr Vinod Kumar and Chairman Founder GHRT INDIA Dr H R Rehman.
Other organisation Members present in the awareness drive was Amit Nayyar Director GHRT Ganesh Dass District President Suhail khokher District Vice President Mr Sunil Singh District President Education Ajay Tripathi Tehsil president Ramnagar ,Ajay Raina Secretary UT J&K Mr. Kuljeet Singh District Youth president were present there.
The objective of this campaign is to educate people about traffic rules and regulations and to promote safe driving practices. We believe that this initiative will go a long way in reducing road accidents and ensuring the safety of the public.
We are hoping that police department can provide us one vehicle for the campaign. This will enable us to reach out to more people and make a greater impact.
In this regard, We are writing to seek your permission and participation in our upcoming traffic awareness drive.
Road accidents have become major concern in our society. To address this issue, we have planned a drive to distribute helmets to youths and educate them about traffic rules and regulations.
We believe that your presence and support will help us in creating a greater impact and spreading the message effectively. We request you to kindly grace the occasion with your esteemed presence and kick-start the drive. We look forward to your positive response and support for this noble cause.
Hindusthan Samachar/Krishan/Manoj