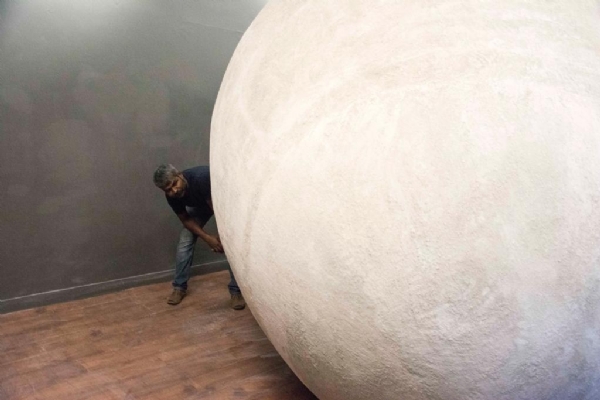 Bengaluru, 23 March (HS): Location-Government Primary School of Sindgi town in the then Vijapur/Bijapur and present-day Vijayapura district in the early Seventies of the previous century. The school neither had windows nor doors and it was a rainy season. The shepherd felt the venue to be a boon to his herd of sheep and made them enter the school building while the school-going children were amused to find the next day morning the new gatecrashers. But such a plight was nothing new to the schoolboys who also included the internationally acclaimed artist GR Iranna, now settled in New Delhi.
A passion since childhood days: Recalling his hilarious upbringing culminating in an amazing career in the field of fine arts, Iranna Rukumpur reminisces-"My father wasn't educated in materialistic terms but was very intelligent and pragmatic when it came to farming. He was very keen that I should become educated and did what all possible within his reach to accomplish his dreams".
Beginning with leftover chalk pieces: GR Iranna, right from his childhood had developed a strange fascination towards drawing. He was very much enthusiastic about observing the developments around him in an artistic form and kept on drawing. Pl, don't jump to a conclusion that he did so in the drawing books with coloured pencils. No, instead he did so with the leftover chalk pieces of his teachers in the classroom! And his canvas was the main road stretch towards a PWD garden opposite his school as the school had no garden, trees or a place to sit and have meals. He and his friends were regulars' to the garden premises as there was drinking water and a hand pump to quench their thirst.
No appreciation or objection: When quizzed whether no one objected to his drawings on the road, GR Iranna explained-"The road towards Afzalpur and Gulbarga, by and large, wore a deserted look for the most part of the day as hardly a couple of buses plied that way. On the way back to school after lunch, I used to make either one or two drawings. Although my friends were happy, no one else appreciated or objected. More than anything else, I did it for my own pleasure without expecting praise from anybody. In a way, it was an act of mischief". This sort of mischief went on during his early schooling days.
An inmate of Ashram: His father was associated with the Sindgi-based Sarangmutt which also hosted a high school. Eranna's father admitted him to the Mutt before the school started for the academic year and was under the tender care of Shri Chennaveer Swamiji. It was typical Ashram schedules, rising early in the morning, cleaning the premises, filling water; attending mass prayers, reading the holy texts and doing voluntary things like that before going to school at 7 AM. Perhaps this sort of routine imbibed a curious interest towards the Vedas, Upanishads and culture in the young boy.
Painting the Mutt paves the way for an upcoming painter: During his stint in the Mutt, came up with an occasion when the Mutt had to be painted. The drawing teacher who was aware of Iranna's drawing talents roped him into the task. The fifth standard child got an opportunity for a lifetime to play with the enamel paint which was available then. In the course of painting, he got an idea and a broader perspective about painting like the techniques adopted, texture, shades, temperament, lighting shadows and many technical aspects.
Watercolours by accident become lifeline: Perhaps GR Iranna was in his fifth standard when the students had to colour the maps. His father took him to a shop owned by his relative to get the coloured pencils. It happened this way; his uncle pestered his father to buy the watercolour painting box instead of the pencils. His uncle wanted to sell and his father wanted to buy and in this way, Eranna got a watercolour painting set. This instance itself became a turning point for the budding artist as when all his classmates were busy colouring the maps with Crayons, he was doing so with watercolours. Water colouring set into motion an altogether different experience with Eranna taking him to new and unimaginable global heights.
Across the Globe: Thanks to his infinite appetite for drawing, painting and ever-experimenting the artistic talent within Iranna went on blossoming not within the state and country alone, but worldwide! You name any major country; he would vaguely recall the number of times he visited it for solo, group shows or Grand Finales'. He keeps visiting the United States and many other countries almost on an annual basis to showcase his painting works and has done around 7-8 shows in New York so far.
First solo show at Jehangir Art Gallery: Recalling his artistic journey, GR Iranna says-"Soon after completing my formal education I had exhibition offers from various galleries and my first solo show 'Edge Dynamics' was held in Delhi Art Gallery, New Delhi and at Jehangir Art Gallery, Mumbai in 1995 while I had completed my Post Graduate degree from the Delhi University in 1994. Likewise, I also did many travel shows and the exhibition titled 'Shadow of the Real' was held at Shridharani Gallery and Gallery Espace New Delhi in 1998. 'In Shadow of Buddha' exhibition was held in Hong Kong in 1999 and it was the beginning of exploring my artistic talent across the world".
No money for Engineering leads to Art: In fact, his entry into the art field by itself is an interesting case study. Once he finished his matriculation, GR Iranna pondered over his journey next. He realized the plain fact that his father was in no situation to afford his career neither in Engineering or Medicine costing lakhs and compelling him to think about the same in art. But, he never knew how to pursue the same. His drawing teacher was a great source of inspiration coupled with known gentlemen like Aldi and H.M Pujari. The latter was a teacher in the first standard and his son was studying in the Art school at the then Bijapur. Iranna checked with H.M. Pujari, whether he also could join the Art school, to which the latter willingly agreed. In this way, Eranna completed the two years Foundation Diploma course in Bijapur.
What next, Dharwad or Kalaburagi? Once, he completed the two years Foundation Diploma course, another dilemma came the way as to whether to go to Dharwad or Kalaburagi for higher studies. He came to Dharwad and met M.R Balikayi, then Principal of the Government Art School. Interestingly, M.R Balikayi advised GR Iranna to proceed to Kalaburagi and learn from Prof V.G Andani, Founder of MMK College of Visual Arts. There again, Prof V.G Andani advised him to take up Painting while Eranna himself was not aware of other specialities' like Applied Art, Commercial Art and things like that.
Moving forward was the only option: After completing the Foundation Diploma course in Bijapur and the Degree program in Kalaburagi the zeal, enthusiasm and craving within Iranna were flooding like never before. The thought to strive and excel was overflowing in the young lad. As he himself sums it-"I had no other option other than moving forward as even thought to go back was not just possible and where else you can think of going back? It was like Do or Die as the situation back home was not all that conducive to feeding me sitting idly. The tutelage under Prof V.G Andani was worth it. He suggested I apply for PG courses at the then Baroda, Shantiniketan and Delhi, just like my other friends. Then, unlike the present days, everything had to be done manually in the absence of the internet, phone connectivity etc. Even the application form had to be sought by post. I just thought over Baroda and Shantiniketan and preferred Delhi to explore more…
…Delhi, right place: Somehow, I felt Delhi; the capital city is the right place. Luckily, I got admission amidst a huge competition. There were 85 seats and only two were meant for candidates from outside states. I and one Aji from Kerala were selected while about 20 people had come from Kalaburagi alone. Then, I neither knew Hindi nor English, although I could write in both languages. Bapi Sharma who was then the Principal and wondered-"You neither know Hindi nor English, what are you going to do here. You will have to write the dissertation". Even the HoD felt, "What is the purpose of taking him as he doesn't know Hindi or English". Then it was OP Sharma, Dean who came to my rescue. He proclaimed-"This is a practical college and not merely a theoretic one. He is very good in arts and deserves to be admitted". So this way, I was absorbed! Perhaps, that was my biggest turning point in life".
One painting sold for Rs 50 Lakhs: Chennu Mathad, a resident of New Delhi for the last 43 years and himself a versatile personality in multiple spheres, showered praises on the artistic accomplishments of GR Iranna. He was also jubilant at the demand for his artworks and cited an instance when one of his paintings was sold for a whopping skyrocketing price of Rs 50 Lakhs!
From and back to ashes: Chennu Mathad quizzed about the impressive artwork at the Kochi Biennale in 2016. GR Iranna explained-"It was a mega egg-shaped planet-like structure layered with Vibhuti and ash. The work was installed within a small room and the entrance was deliberately made in the form of a small door. The idea was to have the feeling of entering into a sanctum sanctorum with a small passage and taking a round one could touch it. The idea was to have a feel of a moon as you enter and an experience of seeing the mountain, mountain power, fragility…
… In a way, it was like a poetic expression of art using ash as the art form and I got the idea after visiting the Mahakal at 4.30 AM. There Mahakala is decorated with Bhasma brought from the pyre of the person passing away the previous day. The idea and principle behind such a practice were to reestablish the fact that irrespective of the background of the dead person, either a thief, alcoholic or a noble person, the ashes become sacred. Here, nobody thinks whether it is a thief's remains or a saint's ashes…
…It is like the concept of Panchabhuta, emerging from ashes and returning to ashes. Initially, ash with a form transforms into formless just like the body becoming ash and again emerging as a body. This is the idea of the cycle. Thanks to my childhood days of being associated with the teachings of learned men like Basaveshwara, Allama Prabhu and likewise.
Art is all about life: GR Iranna concludes-"I keep travelling the US. China, Japan, Egypt, and African countries among many others. It is an interesting experience meeting different people with a variety of diverse cultures and backgrounds. Just like the age-old proverb, 'Read a Book or Travel all over the Country', I have been moving around the world to experience different cultures and showcase my artwork. Art is all about what you are and art is not something borrowed from anywhere. It is your experience. Just imagine drinking coffee or eating a banana, you can keep explaining what a banana feels like. But, even if you write a hundred books, one cannot relish a banana without tasting it…
…I have been in Delhi for the last 30 years, very privileged and lucky to be here and by God's grace have everything, name, fame, money, everything. But, at the end of the day, all these things hardly matter. What matters is what you want to reach. The journey is still on the way, and you really do not know where it leads to! However, if I look back, the whole journey seems to be a mystery full of surprises all along and the fact remains wherever there is a mystery, there is creativity. Once, I am under an impression that I know everything then I am no more a creative person. Only when you create, do you come to know where it comes from while the creativity comes subconsciously…
…Even today, when I keep introspecting, I feel good for nothing. I am not an artist and still think I haven't yet become an artist yet and am still a student because art is just like a big ocean and you cannot dream of becoming an artist by holding just a drop of water. Look at the sky and just imagine how vast it is. When you ask yourself what is your contribution to society, you become perplexed and the urge to give back triggers. Mallikarjun Mansoor gave us his singing, he might have left us but we still feel happy listening to him to this day. This is a contribution.
Hindusthan Samachar/Manohar Yadavatti