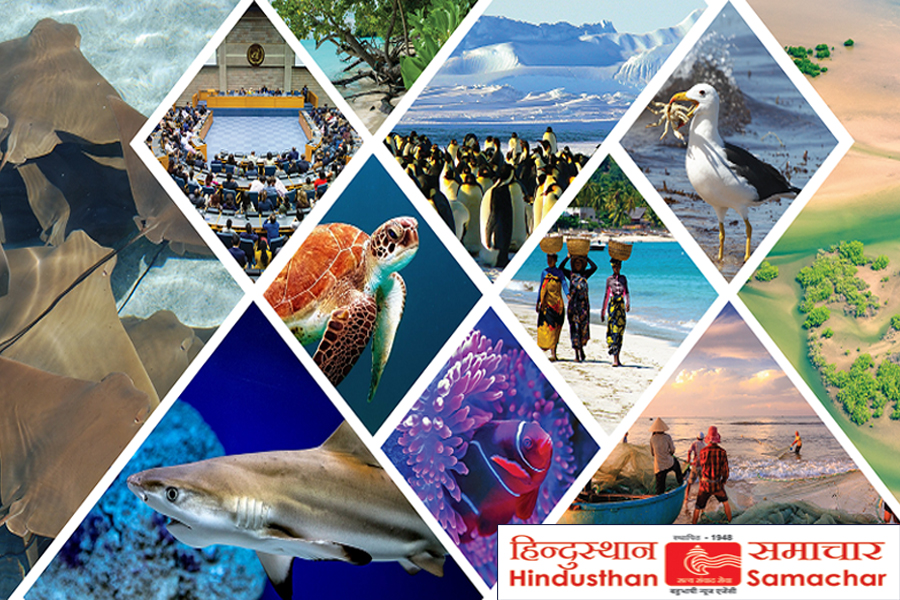 Bengaluru, 05 October (HS): Hunasagahalli Jayadeva, an octogenarian veteran artist recently displayed as he fondly prefers to call his philosophical form of art, a visual tribute and treat to Soundarya Lahari at the Karnataka Chitra Kala Parishat here.
Art penance for a quarter century: Perhaps, his sustained patience, incessant enthusiasm and non-stop work for a little over a period of 25 years by itself to come out with this mega exhibition of 107 paintings is nothing else but mind-boggling. But what appears amazing is his simple, humble and unassuming submission: "I have only tried to reflect my thoughts and understanding of the great poetic rendering in praise of divine mother in the form of these paintings".
Days, weeks, months and years: If you ask him the numbers of days he devoted to starting drawing and completing each painting, you shall only be awestruck: "Maybe, I haven't kept a count on them as the periods kept on varying from days, weeks, months and years. At times, some of these works have been based on a single verse while there have been some on multiple verses".
An alumnus of CTI: Jayadeva H., an alumnus of the Chamarajendra Technical Institutive (now CAVA), Mysuru, from 1957 to 1962 happened to be a prodigy of the great art luminaries like SN Swamy, FM Sufi and Y. Subrahmanya Raju. After completing the five years Certificate Fine Arts Course, he later did his GD Art (Government Diplomate) in 1965. Later on, he went on fine-tuning the artistic skill sets of Kendriya Vidyalaya students until 2000.
Spiritual Artist of a rare genre: The significant difference between the majority of contemporary artists and Hunasagahalli Jayadeva is his passion for spiritual artefacts'. In a way, he admits to describing his works as 'Adhyatma Kala', soul lessons through art expressions.
An internal process of understanding God: He explains: 'Art is a humanistic expression in varied forms throughout, irrespective of region, language, etc. Well, to define rather in a broader sense, it can be stated as the internal process of understanding God, or realization of God in one's own unique manner. The whole purpose of this endeavour is to make a sufficiency life or in other words "Jeevana Sarthakate".
Symbols of spiritual language into visual forms: The speciality of Hunasagahalli Jayadeva's paintings is their development as symbols of spiritual language, synthesizing the Vedic texts into visual forms. In other words, they are fine depictions of what an artist can visualize, imagine and experience.
Understanding of spiritual nuances: His paintings also represent the artist's understanding of spiritual nuances and inner meanings of Vedic text while his works can be broadly classified into the Upanishad series, Anand Lahari and other works. All along, his effort has been to evolve the relevance between the Yogic chakras as a part of Shrichakra while his works are an example of the synthesis of an intellectual mind, an intuitive heart and skilful hands.
Soundarya Lahiri, bliss to the viewer: Hunasagahalli Jayadeva's artworks as a result of artistic penance for a quarter century over the Sri Shankaracharya composed Soundarya Lahari in praise of the Divine Mother can be aptly described as bliss to the viewer. This portion of the epic poetry explores the entire process of elevation of the soul through mantra, tantra and yogic practices invoking blessings of the divine mother. In fact, he has already brought out all these poems to life with a series of 41 paintings in the form of a book, sometime back.
The beauty of Mother: In the second part, he explores the beauty of the Mother in her various manifestations like child, daughter, young woman, wife, Divine Mother, destroyer of darkness, nurturing mother, giver of boons, bestower of knowledge, protector/preserver of Trimutis, verily the very centre of the Universe.
Humble to the core: Hunasagahalli Jayadeva's paintings of Soundarya Lahari are phenomenal from whatever parameters you wish to look at. Despite his perseverance, patience, efforts and time in working over, he was literally humble to the core in explaining the salient features of each and every painting.
Hindusthan Samachar/Manohar Yadavatti