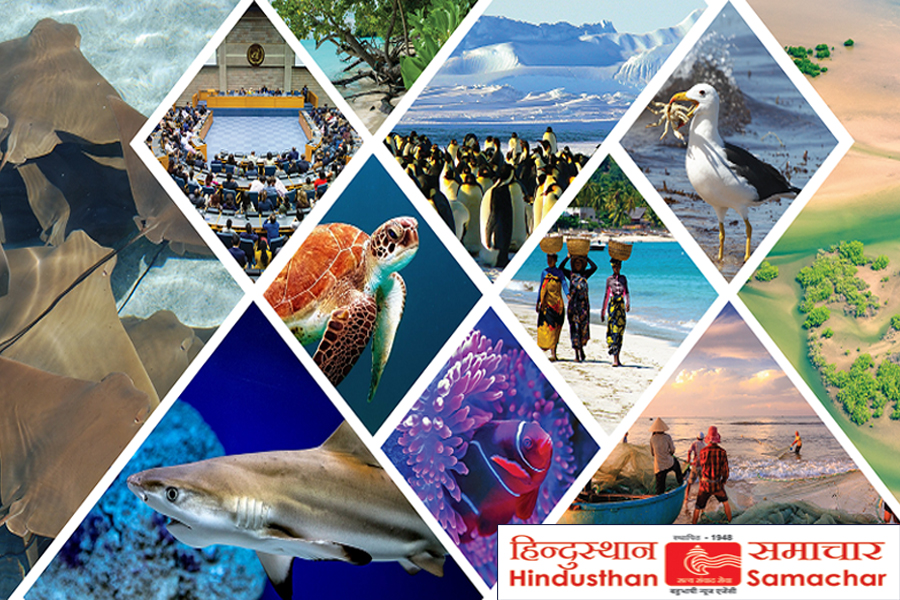 Srinagar, 14 January (H.S): Ramban is on the surge of 'Sweet' revolution through honey production on a large scale by progressive farmers helped and supported by government sponsored 'Promotion of Bee Keeping' scheme and 'One District, One Product' scheme.
Starting with only 5 honey bee colonies in 1990, Nadir Bakerwal, 85 had ventured into the honey bee business with an aim to supplement his farm income in his village Gandhote perched atop a hill overlooking the National Highway.
Coming a long way, Nadir and his three sons own more than 350 honey bee colonies and inspired 40 other progressive farmers of his village who together own 5000 colonies. Almost all these progressive farmers belong to the Scheduled Tribe Communities including Gujjars and Bakerwals.
According to Mohammed Ashraf, 45(Son of Nadir) his family including his two other brothers, Abdul Rashid and Nasir Ahmed earn an annual income of Rs.10. Lakh from apiculture business.
"We are satisfied with this business which has now become the mainstay of our livelihood and my son, Mohammed Showkat has also adopted it as a full time business. He too owns 90 colonies", he said.
According to him Nadir, father of six sons and three daughters own 25 colonies; his sons M. Ashraf, Abdul Rashid and Nasir Ahmed own 90, 80 and 75 colonies respectively, besides his grandson, Mohammed Showkat, is owner of 90 colonies. Besides increasing his colonies he kept on giving the bee colonies free of cost to other villagers and encouraged them to take up this farming seriously despite all odds.
He said that his father has shown a lot of perseverance and steadily built up the business to this level by dint of hard work and fighting all odds. Initially, Nadir used to load and unload the bee colony boxes himself for transportation to other places during seasonal migration.
Ashraf said that in 1990 his father, Nadir was motivated by the brother of a teacher, GM Tantray of Banihal to adopt beekeeping and after seeing his beekeeping business in Banihal he had bought five colonies from him and thus started his beekeeping business.
"Although, it (business of apiculture)suffers from occasional losses by the pest infection, climatic adversities etc. yet now it has becoming a choice for many villagers in Ramban district with the financial, material and technical supports provided by the government through the Department of Apiculture.. "With gradual success and increasing returns we are highly encouraged and are grateful to the Apiculture Development Officer, Ramban, Ayaz Ahmed Reshi who leaves no stone unturned in guiding us and providing all information and help regarding this, throughout the year "he added.
According to Ashraf some of his family members are in Rajasthan with their bee colonies since November to feed their bees on mustard flowers. "They will stay there till the end of January and then move to Pathankot in February for one month stay where the bees will feed on mustard and Safeda (eucalyptus or poplar trees) flowers. On way back they will stay in Jammu for the whole March and then migrate to Kashmir valley where they will stay till August. They will return to Gandhote in September to feed their bees on Solai shrubs" he explained reflecting his deep knowledge about the trade.
"The honey made by the bees after feeding on Solai is one of the best in the world which has several medicinal properties and sells like hot cakes for a very good price. The honey production has been included under the government's 'One District, One Product' programme of Ramban district and Ramban is the producer of 70% of honey produced in the entire Jammu province.
The Beekeepers have extended their gratuities to Deputy Commissioner Ramban, Mussarat Islam for taking personal initiative in making hassle free migration of their Bee colonies to Rajasthan without lose of time.
Solai Honey, Acacia Honey and Multi Floria Honey are the three types of honey produced from Solai, Acacia (Kikkar) and multiple flowers in Ramban with Banihal tehsil leading in the district. As many as 35000 colonies of beehives have been established in the district which includes 450 prominent Beekeepers.
Thirty new beekeepers will be established in Batote Tehsil alone in 2022-23 which will boost the rural economy, "said Reshi, District who is now- a days on a tour to different parts of Rajasthan to help and guide the beekeepers of Ramban district who are there with their bee colonies.
He informed that last year the total production of honey in Ramban district was about 6,000 qtl and this year the target is to produce 8,000qtl and exuded confidence that if all beekeepers emulate Nadir and show the determination and hard work of his level it would be certainly achieved.
He said that rewarding farmers like Nadir would go a long way in encouraging other farmers to achieve big goals in farming.
He said that under the 'Promotion of Beekeeping' Scheme 2 honey extracting machines have been given to Nadir's family and in all 11 machines to other farmers in the village besides Beehives, Bee Colonies, Comb Foundation Sheets and necessary medicines.
He said that within few days all these beekeepers who are all registered with National Bee Board will be a part of a Farmer Producer Organization (FPO) in Ramban and once they become a member of it they will be able to sell their honey to any part of the world and would start fetching a good price of their product.
Hindusthan Samachar/Ranjit Thakur